Powerzone Oil Refinery Pvt. Ltd  is distinguished manufacturer and exporter of the premium quality assortment of   Speciaity Oils & Lubricants  such as Transformer Oil, Turbine Oil, White Oil, Heat Transfer Oil and Hydraulic Oil etc. Our products are an impeccable blend of the most efficient lubricating agents that aid in the frictionless movement of different incorporated parts of different machineries. These have a high demand in diverse industries for their finest quality lubrication capability. Our clients recognize our range for noteworthy attributes such as thermal stability, consistent composition, high viscosity and long shelf life. Our oils and other lubricants are renowned to bring utmost smoothness in the functioning of vehicles and machinery and boost their service life.
Our products are formulated using latest technology, equipment and machines installed at our avant-garde processing unit. These machines are manned and handled by a team of experienced technicians, so as to assure our clients that a faultless range would be delivered to them, within the predetermined time limit. The additives used in the formulation of these oils are procured from trustworthy vendors for better functionality. We stock up our range in controlled conditions and package them using quality packing material for ensuring the delivery of premium standard products.
We have hired a team of knowledgeable and hard-working professionals that helps us in attaining our intention of offering an optimum range of grease, oils and lubricants. These experts possess supreme proficiency in their related domains and are further rationalized with current developments by means of regular training sessions and workshops.
SERVICE PRODUCT APPLICATION AREAS
Our exclusive range of specialty oils and lubricants are being widely applied in the following industries: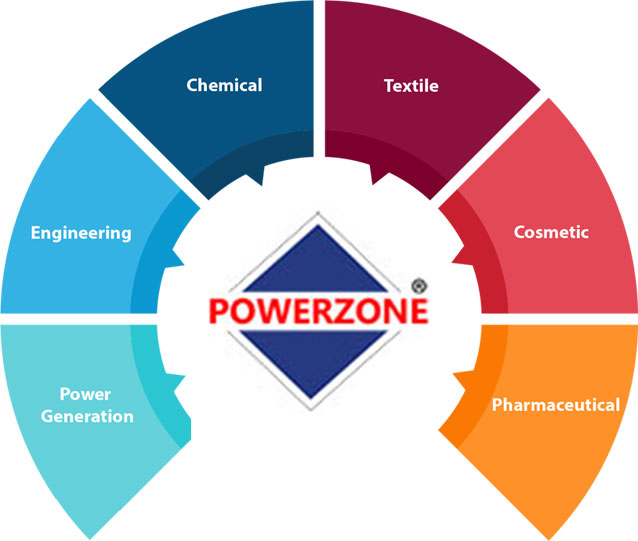 Our extremely competent workforce works in close harmonization with each other to offer a premium operational efficiency. Our team comprises of sales executives, engineers, technocrats, quality controllers, skilled and unskilled professionals for streamline functioning of our business.
Our mentor has set a goal for our organization for achieving utmost client satisfaction by directing our actions towards their specific demands. With her constant support and motivation, our team works with intense meticulousness and dedication for fulfilling the goal. This has helped in the huge achievement and development of our organization.
MANUFACTURING FACILITIES
At Powerzone, we are equipped with the most advanced and state-of-the-art production facilities that aid in our endeavor to become the best in our domain. These manufacturing facilities are very well-managed by our dexterous professionals and include various high-tech blending plants that are used to mix the various components and raw materials used in turning out the lubricants and oils. We also utilize many other latest machineries, tools and equipments that are very necessary in infusing an unmatched efficiency in all of our lubricants and specialty oils. The above manufacturing machinery and other components utilized by us make us attain new venues of success and a distinct niche in the Indian marketplaces.
OUR WORKFORCE
We have housed a dedicated and devoted team of professionals within our organization. These professionals include expert chemists and scientists, R & D professionals, marketing executives, production supervisors and quality control officers. All these personnel work in a perfect unison to ensure the quality factor of the products as well a strict concern towards their timely delivery. In order to maintain our quality commitment, we provide regular skill improvement training to our adept workforce to enhance their manufacturing skills that will ultimately assist in the higher growth of our organization as a whole.
WHY US?
The products we offer bear certain distinctive traits that make our organization lead from the front in this industry. Our clients prefer our products amongst the similar products of our market rivals because of the following highlights:
Highly efficient and superlative products
Ability to cater various industries
Latest and advanced machineries
 Dexterous team of industry experts
Use of innovative technologies
Widespread supply network